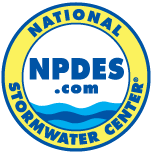 The National Stormwater Center
The National Stormwater Center, part of the J. P. Whitescarver Foundation has provided training and certifications for over 20 years. We pride ourselves with having the highest quality instructors and instruction available.
We are excited that ComplianceGo has endorsed our organization, as they want to refer you to the best in training resources. Whether you need on-site training for your company, online training, or go at your own pace training, The National Stormwater Center can offer solutions to meet your training needs.
The National Pollutant Discharge Elimination System (NPDES) Permits require that "Qualified Personnel" conduct stormwater inspections. The National Stormwater Center certifies graduates to function as Qualified Personnel:
Knowledge of the principles and practice of erosion and sediment control and pollution prevention;
Ability to assess conditions at the construction site that could impact stormwater quality; and
Capacity to assess the effectiveness of any stormwater controls selected and installed, and the ability of such controls to meet the permit's requirements.
This certification indicates that the services our graduates conduct are being performed by professionals who have met the established standards of knowledge, experience, and competence required in the field of stormwater inspections.
CERTIFICATIONS:
Certified Stormwater Inspectors
-Municipal
-Industrial
-Construction
-Municipal
-Industrial
-Construction
Erosion & Sediment Controls
To see more course listings and certifications offered, go to www.npdes.com