Grow Your Business
Double What You can Do With Current Resources
Manage Docs, Plans and Specs
State-of-the-Art Rain Tracking
Solving Stormwater Management
Summary of Software Services
Reduce Inspection Time by 50%
Mobile inspection interface and flow
Customizable, professional forms
Update maps in the field on the cloud
Increased Productivity
Real time at-a-glance compliance dashboard
Access, store and manage all documents
Bind Existing Clients to You
Site and company compliance reporting
Improve client response with email corrective action
sign off – no login required
Expand your Consulting Reach
Automatic past due notification reminders for increased compliance
Automated rain event notifications and rain tracking/reporting
Grow your Business
Applicable to Industrial, Construction, Post-Construction, and Municipal Sectors
Branded to increase your visibility
Manage your clients with the best software available
Need something to share with your team?
Click the button below for a PDF of this Summary of Services.
---
Use Never Before Seen Technology to Take Control of Your Program
Cloud Based Software Solution
No New Hardware or Software to Install
Use on Any Device
Data Guarantee – 24/7 Access
100% Secure and Backed Up
Key Features
GoInspector
Inspector only mode designed specifically for inspector workflow. Compatible on any device, this feature provides those in the field with all they need at their fingertips.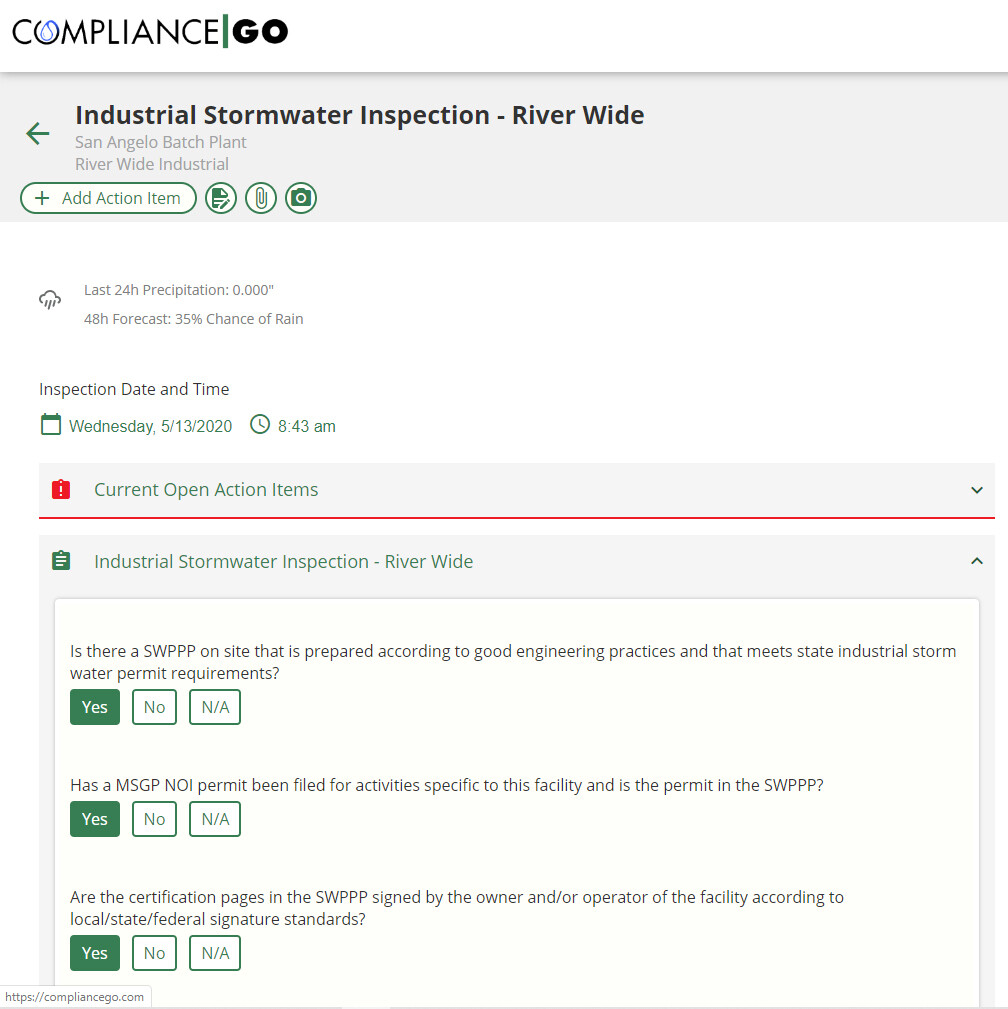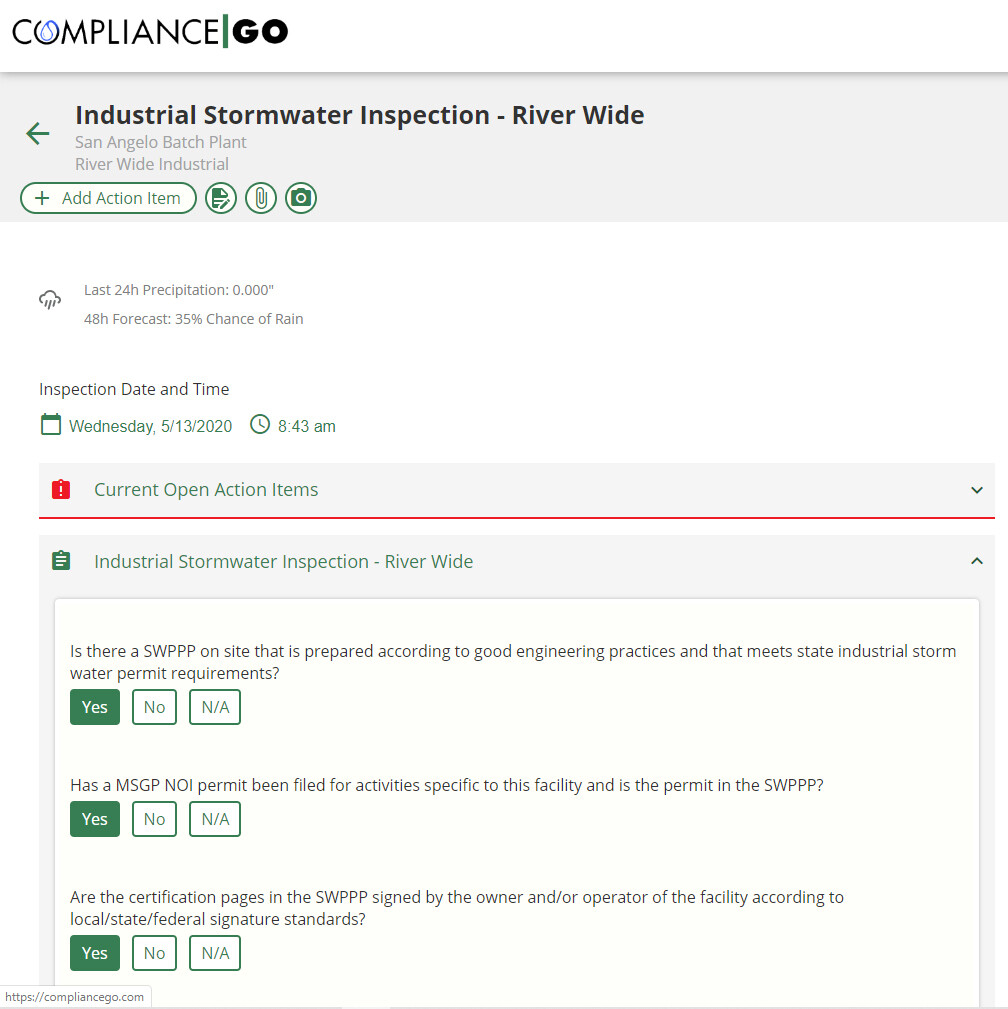 Save Time - It's Risk Free
Get Started For Free
Talk to us right now to get started using ComplianceGO risk free.
Onboarding is Easy
Send us your sites' information. We'll get you set up.
No Contracts, No Risk
You don't pay until you are completely up and running.
Free Guide: Stormwater Compliance From Any Device
It's time to eliminate paper compliance records from your site
Know Before You GO!
Quickly See What Needs Attention
See Which Sites Have Outstanding Items
Check Documents and Inspections
All From Your Desk
Cut Your Workload In Half!
No More Endless Return Trips
Only Go Back to the Sites that Need It
Check and Enforce Compliance Online
---
Try it Free for 90 Days
After That - Only Pay For What You Need
Take it for a Test Drive
Not quite ready to pull the trigger? Set up a test project in our self-guided demonstration tour.
Set up a project
Conduct Inspections
Check out the Dashboard
Upload and Mark-Up Maps
Try Out Permit Tracking
Create Site Logs
Make Some Notes
And More...
Use real project data or make something up. Your information is secure and we won't share it with anyone.
When you are ready to move up to the full version, we'll get you up and running in no time.
---
Getting Started is Easy.
It's Free and Only Takes about 15 Minutes
TALK TO US RIGHT NOW:
7am to 6pm Mountain Time
Off Hours? We'll Contact You!