Cut Your Workload in HALF
Most MS4 Inspectors tell us there just isn't enough time in the day to do it all.
Know What's Happening Before You Go
Assign Corrective Actions/Enforcement
No Login Correct Action Sign-Off
Manage Documents and Plans
Solving MS4 Stormwater Inspections
Summary of MS4 Software Services
Reduce Inspection Time by 50%
Mobile MS4 inspection interface and workflow. Any form, any format
Permit Tracking
Increased Oversight
Real time compliance dashboard
Automatic past due notification reminders for increased compliance
Access & manage submittals/documents
Save Permittees Time
Improve permittee response with email corrective action sign off – No Login required!
Provide Permittees with the Solution
No cost portal for inspections and document management
User friendly map updating
Cloud-based storage included for a history of compliance
Improve MS4 Compliance
Be automatically notified if permittee rain events were missed
Annual reporting data at your fingertips
Eliminate bulky hard copies with sharable view-only access
Need something to share with your team?
Click the button below for a PDF of this Summary of Services.
---
Use Never Before Seen Technology to Take Control of Your Program
Cloud Based Software Solution
No New Hardware or Software to Install
Use on Any Device
Data Guarantee – 24/7 Access
100% Secure and Backed Up
Cancel Anytime – No Cancellation Fees
Upgrade Anytime
Key Features
MS4Inspector
Inspector only mode designed specifically for inspector workflow. Compatible on any device, this feature provides those in the field with all they need at their fingertips.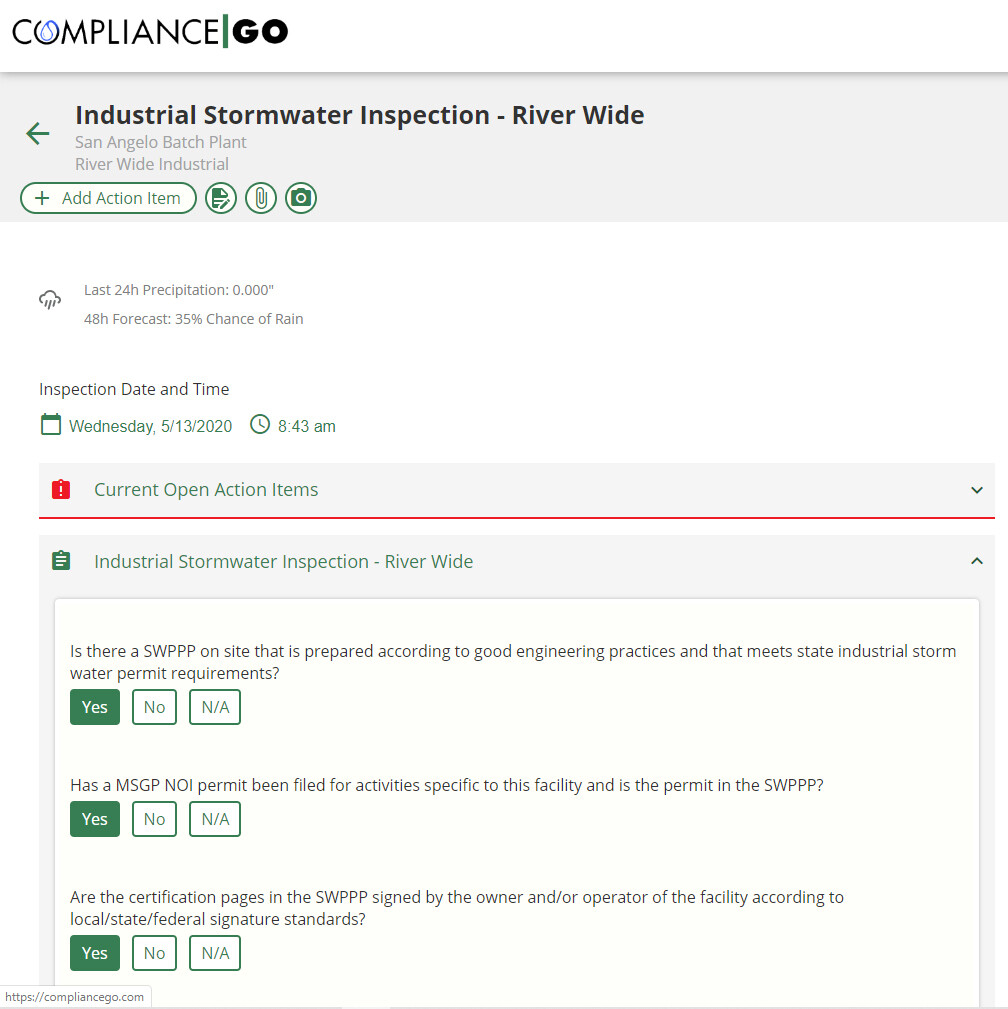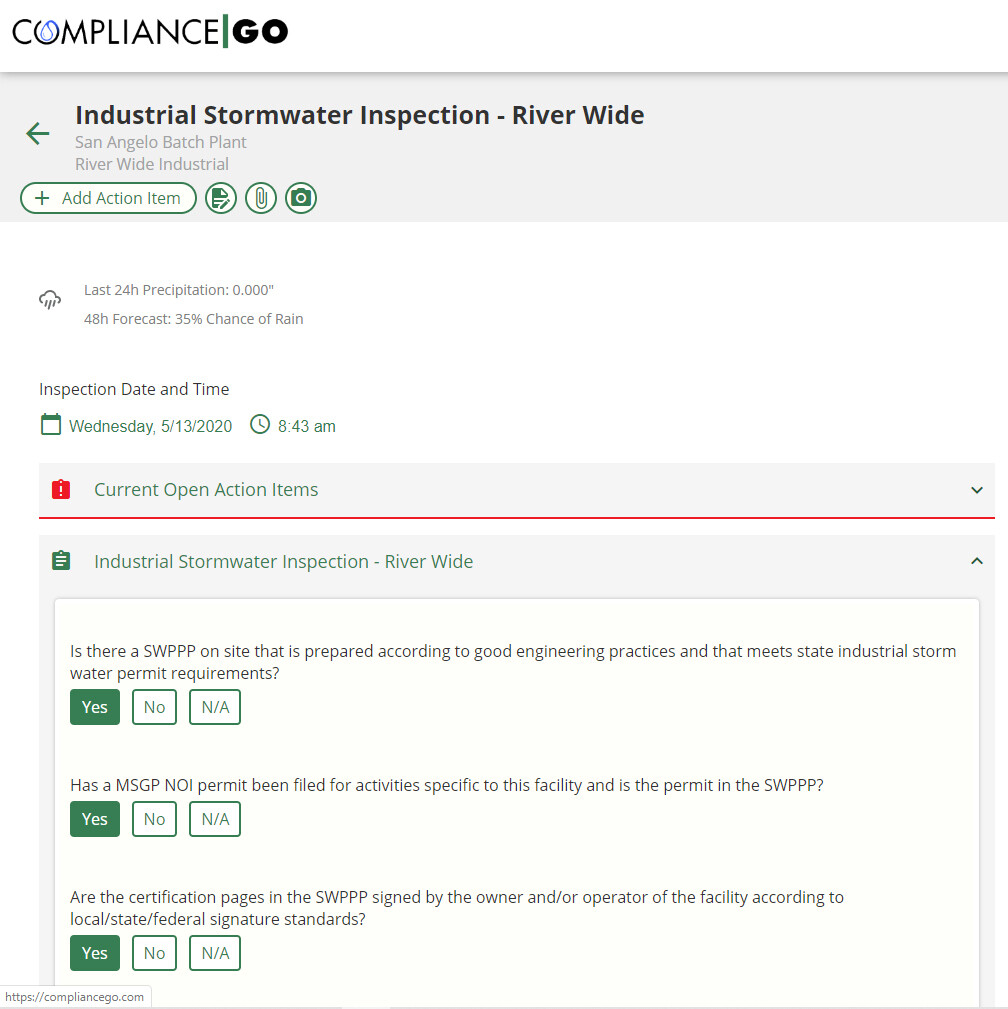 Save Time - It's Risk Free
Get Started For Free
Talk to us right now to get started using ComplianceGO risk free.
Onboarding is Easy
Send us your sites' information. We'll get you set up.
No Contracts, No Risk
You don't pay until you are completely up and running.
Free Guide: How To Get A Response From Contractors
Is That Even Possible?
Know Before You GO!
Quickly See What Needs Attention
See Which Sites Have Outstanding Items
Check Documents and Inspections
All From Your Desk
Cut Your Workload In Half!
No More Endless Return Trips
Only Go Back to the Sites that Need It
Check and Enforce Compliance Online
---
Try it Free for 90 Days
After That - Only Pay For What You Need
Starts at Just
$25/mo
Per User
100% Data Guarantee
Cancel Anytime
Included Features

- All Your Inspections on Every Project

- Unlimited Users, Viewers

- Create Custom Inspection Forms

- Inspector Dashboard and Calendar

- Comprehensive Reports, Annual Report

- Track and Manage Documents and Permits

- Automatically Email Inspection Reports

- Inspection Due/Missed Notifications

- Escalating Enforcement Capabilities

- Shareable View-Only Link

- Add Sites, Users, Inspections, etc. All On Your Own

- Branded App and Login

- Organize by Department

- Onboarding, Setup, Phone and Email Support

Add-On Features

+$25 /mo per additional feature

Each User Only Pays For The Features They Use

"No Login" Corrective Action Sign-Off for Maintenance Personnel and Operators

Map Update/Management Tool

Automated Weather Alerts / Advanced Notifications

MS4NEXT

Take Your MS4 To The Next Level

Operator Inspections

Plan Submittals and Review
---
Take it for a Test Drive
Not quite ready to pull the trigger? Set up a test project in our self-guided demonstration tour.
Set up a project
Conduct Inspections
Check out the Dashboard
Upload and Mark-Up Maps
Try Out Permit Tracking
Create Site Logs
Make Some Notes
And More...
Use real project data or make something up. Your information is secure and we won't share it with anyone.
When you are ready to move up to the full version, we'll get you up and running in no time.
---
"
The ComplianceGO online system has enhanced our MS4 program management many times over. From efficiency to sustainability, we have a winner with ComplianceGO.
Steve Anderson
West Haven City Engineer
"
ComplianceGO has been fantastic. We have really enjoyed working with them. They are very professional and knowledgeable. I highly recommend them.
Justin Parduhn
Highland City Stormwater Manager
---
---
Getting Started is Easy.
It's Free and Only Takes about 15 Minutes
TALK TO US RIGHT NOW:
7am to 6pm Mountain Time
Off Hours? We'll Contact You!