Go Digital with Stormwater Inspections
Do it Today. You have a smartphone. Use it.
How many years do you think it will be until construction projects have no paper on site?
Hint – The answer is probably less than you think.
Are you planning on being the last one doing handwritten inspections while managing a 3 ring binder?
Stormwater regulations are steeped in objective, black and white requirements that must be readable, accessible, protected, and maintained years after a project finishes –The time is NOW to begin inspecting and managing these requirements electronically.
Everything Is Going Digital.
Handwritten reports in the field are sloppy, unprofessional, and outdated.
Paper binders must be secured and protected
Maps must be updated by hand with a sharpie
Weather data and sources must be manually tracked and recorded
These all waste time for an inspector who could be focusing on site compliance.It's time for stormwater to move on as well. Technology is avialble and is custom built with all of the functionality you need to do your stormwater inspections digitially on whatever device you choose to do it on.
NPDES regulations from the federal level down to states and MS4s have started recognizing and encouraging electronic management as a win-win for everyone.
Other industries have already moved on:
Car Registration
Business License Renewals
Filing Permits
Paying Taxes
---
It's Easier Than You Think!
Almost everyone has a phone or computer that can easily be used to save time in the field and money while improving stormwater compliance. Cloud software CAN do everything you need for an stormwater inspection and do it digitally.
And, considering the present COVID-19 pandemic challenges, there is no better time than now to invest your time into a better way to perform and manage your stormwater inspections.
Get Started For Free
Don't wait, see the difference today.
---
Cut Your Inspection Time by 50%
Time Saving Features
Maybe you have lots of inspectors in your municipality to handle all the required inspections under stormwater regulations – or maybe you don't!
With complianceGO, we can make you go further.
Easy to use inspection forms for consistency and time saving – on your phone.
Tap of the finger to send inspection results, photos and instructions to those who need it.
Only visit the site once. No need for a second visit to verify action item completion.
Verification of closed action items right on your desktop.
Know with complianceGO weather feature which sites to visit to check on erosion or pollution problems.
Confirm with a photo from the contractor when a site is stabilized for the NOT.
Use the enforcement form to compile the annual enforcement information needed each year.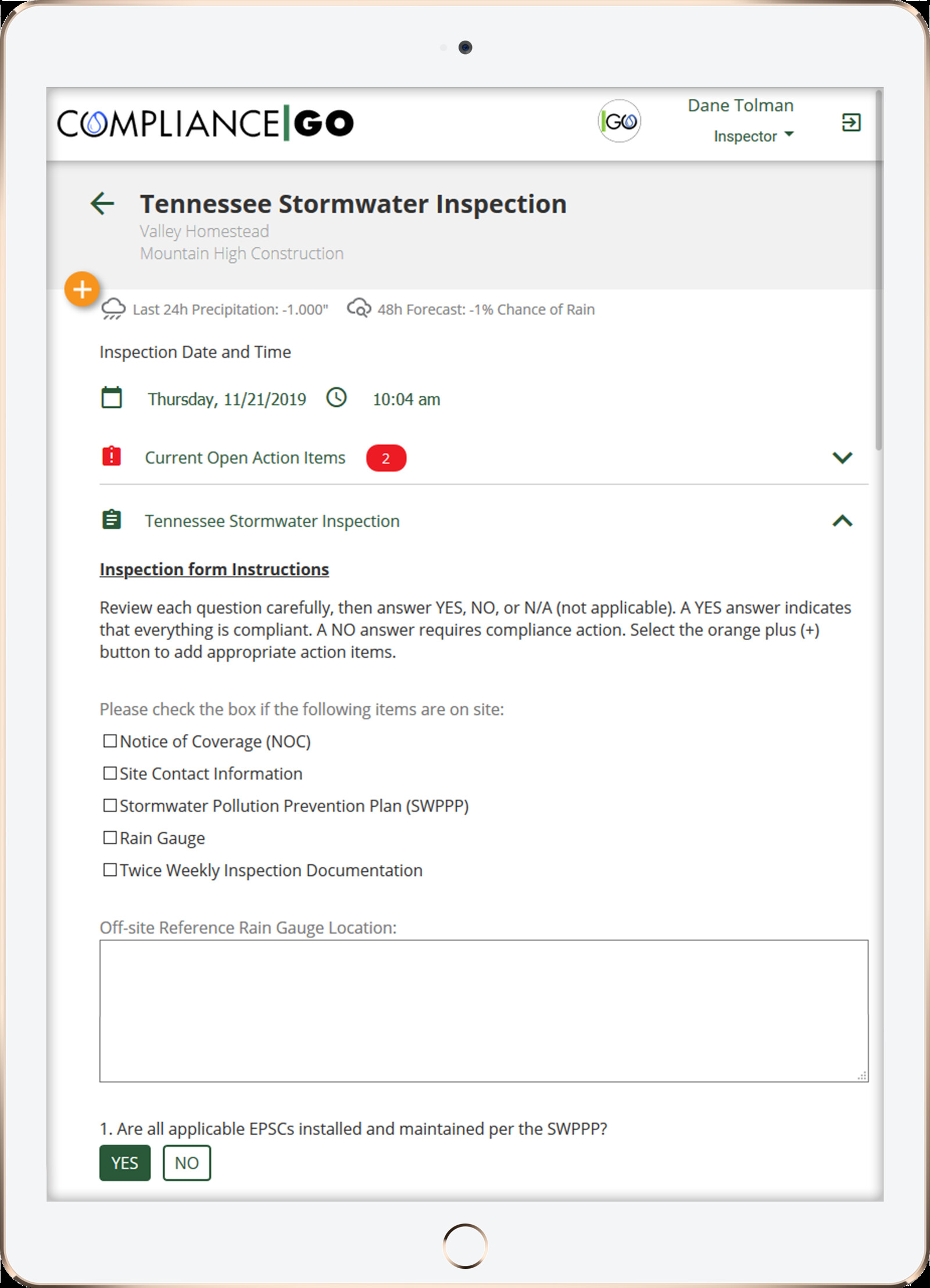 MAKE YOUR LIFE EASIER AND MORE PRODUCTIVE – BE A HERO!
Get Started With ComplianceGo Now